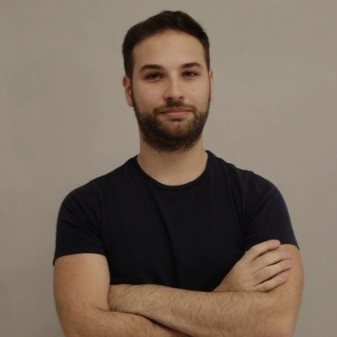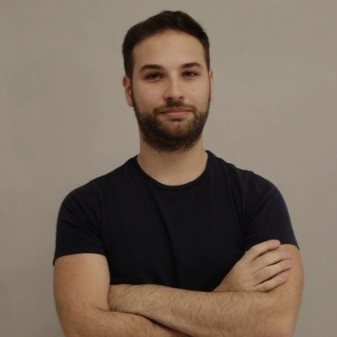 Agustin Valeriani
Front-End Developer
Agustin loves to explore code and conceptualize ideas. He is fascinated by how things work and building things from scratch allows him to explore this. Agustin believes that surrounding himself with a strong network will support him in becoming a more effective developer.
React
PostgreSQL
MySQL
Adobe Photoshop
Linux
jQuery
HTML5
+ 6 more
Agustin ist derzeit nicht verfügbar.
JavaScript
8 Erfahrung in Jahren
Frontend Developer
2018 - 2019
Getsurance is a provider of digital occupational disability insurance and extensions around life and long-term care insurance
Developed and launched a new insurance product in Elm with a very restricted timeline
Created a Styleguide for the checkout components
Updated administration tool in React and Redux to support new product
Technologies: React, Redux
Senior Frontend Engineer
2018 - 2018
Azumo provides outsourced software development for businesses to help them grow
Migrating legacy assessments systems into a modern React approach
Adding accessibility, improving the development process and speeding up time to production
Software Engineer, Web Platforms
2016 - 2018
R/GA is a full service digital agency creating products, services and communications to help grow their client's businesses
Developed with a 25 people team the frontend for a large site owned by a major film studio
Designed and developed the creation of an instagram integrated video generator on AWS Lambda and responsive landing in AngularJs for a Mercedes Benz campaign
Developed a SPA based on components for displaying JSON retrieved data using React and Jest for Nike CGI
Replaced old REST endpoints in cakephp for a new version of the API built on Laravel improving loading times by x5 for J&J
Technologies: React, Next.js, Jest, SCSS,
Full stack software engineer
2015 - 2016
Digbang are a specialist web application company
Led two junior developers on a project which implemented new features
Redesigned several landing pages, improved conversion rates and faster loading times for the whole site
Designed and implemented a custom ecommerce, CMS and payment platform integration from scratch for Ginebra, a clothes brand
Technologies: React, Flux, Flow/Laravel and Doctrine
Junior web developer
2010 - 2012
TyC Sports is an Argentine television sports channel
Worked on several components and improvements for the company site and content management platform
Bachelor's degree Computer Science
2008 - 2017
Universidad Argentina de la Empresa
Técnico en Informática Personal y Profesional Informática
2004 - 2007
Instituto Sagrado Corazon de Jesus
NOCH NICHT GEFUNDEN, WAS DU SUCHST?
Dann sende uns bitte eine Nachricht. Gerne beantworten wir deine Fragen!