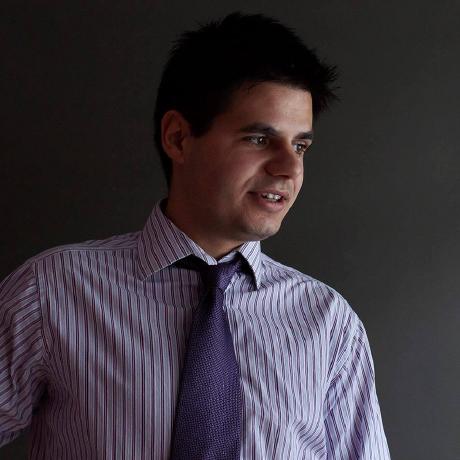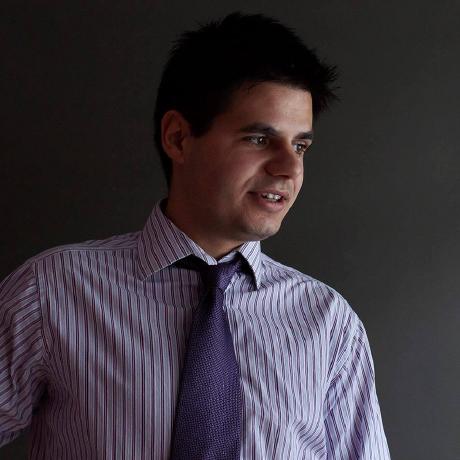 Tihomir Nedev
Full-Stack Developer, CTO, po
I'm an engineer and entrepreneur. Very passionate about emerging technologies. Driven by the opportunity to help others.
Trello
Asana
Jira
Entrepreneurship
Physics
Engineering Management
JavaScript
+ 22 more
Tihomir n'est pas disponible pour le moment.
Python
7 Années d'expérience
Tensorflow
3 Années d'expérience
Django
6 Années d'expérience
Expériences de projet et de travail
Senior Software Engineer Contract
2018 - actuel
Speed optimization for large financial data
Tech stack:​ Python, JavaScript, Flask, Pandas, NumPy, AWS, PostgreSQL, QuasarDB, Redis, TensorFlow, scikit-learn, Snips NLU, Plotly
R&D of analytics and visualization tools for large financial data sets
Co-Founder and CTO
2016 - actuel
Received a Google grant for developing a tool used by online media
Developed various chatbots for clients with over 2M users
Tech stack:​ Python, Django, Flask, Keras, TensorFlow, Azure, Docker, Heroku
Developed P2P chatbot based marketplace with 20K users
Senior Software Engineer Contract
2018 - 2018
Developed a ML data verification system
Developed a chatbot for luxury items resale
ech stack:​ Python, Django, AIOHTTP, Pandas, PostgreSQL, MongoDB, Keras, TensorFlow, PyTorch, AWS
Developed tools for data gathering and cleaning for ML
Senior Software Engineer Contract
2018 - 2018
Tech stack:​ Python, Django, PostgreSQL, Celery, Redis, Docker, AWS Lambda
Developed features for Teamstr fantasy football app
Independent Consultant
2017 - 2017
Incubator develop their ideas, have a startup mindset and realize them technically
Developed the web system for a NEXT IoT solution
Tech stack:​ Python, C/C++, Django, PostgreSQL, Heroku, IoT & Sensors
Helped the first two teams in EDF Luminus NEXT internal innovation
Co-Founder and Lead Engineer
2016 - 2016
Single-handedly developed the production-ready hardware and software of Flodis
Coordinated the hardware production and quality
Participated in the development of the business model which lead to Y Combinator Interview
Tech stack: ​Python, C/C++, Android/Java, Django, PostgreSQL, IoT, Hardware, Electronics, MCUs
Flodis is a connected spirit dispenser for venues that removes the queues and the frustration of getting served in busy bars. Customers can self-serve their drinks and pay using their smartphones. We rent the dispenser to the businesses and open up a direct marketing channel to their customers
Co-Founder & Co-CEO
2013 - 2016
Developed the first Android based drone SDK and autopilot
Developed an autonomous drone security product - Flyver Eye, used by the largest agricultural company in the region.
Lead an engineering team of 9
Tech stack:​ Android/Java, Python, C/C++, Hardware, Communication Electronics, Sensors, MCUs, CAD
Flyvers mission is to enable developers to develop Apps for drones. As easy as for smartphones. Flyver tools consists of open source SDK, development framework and drone simulator - maintained and enriched by a vivid community of developers. Our ultimate goal is to build a marketplace for drone apps
Co-founder and COO
2013 - 2014
Held regular courses, university lectures and events to popularize the technology in the region. This lead to becoming the most popular prototyping company in Bulgaria
Managed a team of 7 interns• Lead the day-to-day operations of the company
Print3D.bg is a 3D printing-on-demand company oriented towards developing the 3D printing industry in Bulgaria
Participated in the development of Smart Hand
Lead the materials and parts research and sourcing
Generated leads with medical professionals and hospitals which helped test Smart Hand with real patients
CHIPO Labs is a start-up high-tech company. Smart Hand being the first project of CHIPO Labs is an innovative myoelectric hand prosthetics for disabled people
Formation et certification
Engineer's degree Self-Driving Car Engineer
2016 - 2017
Summer Entrepreneurship Program Entrepreneurship/Entrepreneurial Studies
2016 - 2016
Bachelor of Engineering General Engineering
2009 - 2012
High School Physics, Mathematics, Programming
2004 - 2009
Bulgarian
Native or bilingual
PAS TROUVÉ CE QUE VOUS CHERCHIEZ ?
Envoyez-nous un message. Nous serons heureux de répondre à toutes vos questions.